Well hello my fellow blogger world readers I haven't did a blogger post in a while so in the meantime, while I was listening to the Am news station in the car yesterday. I heard that this UK man post a Subway $5 footlong sub on the company's Facebook page measuring for a $5 to a 12 inch. And it had other costumers complaing as well. But I didn't see the diffreance it's my favorite hotspot or 'else'?
Subway customers break out rulers and complain
The company's foot-long sandwiches are coming up short, and diners are posting the photographic evidence online.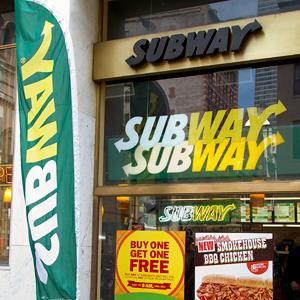 Subway took an inch, but photo evidence of its deceptively small sandwiches stretches for miles.

Because "$5 less-than-a-foot-long" doesn't have quite the same ring to it as Subway's catchy limited-time offering, the company is doing some damage control after an Australian man put a tape measure to a 12-inch sandwich that was about an inch too small. He posted the photo on the Subway Facebook page, got more than 100,000 likes, then watched as the photo was promptly removed.
By the time Subway scrubbed the undersized sandwich off its page, the
New York Post
had already done some investigating. The newspaper found that four out of seven Subway footlongs fell below the 12-inch threshold.
Subway's detractors have since lit up its
Facebook page
with criticism, including one of its 19.8 million "friends" who recommended that the $5 footlong's price be reduced to $4.58 for 11-inch models. On
Twitter
, meanwhile, repeated images of people's sandwiches and tape measures have become a meme bordering on pop art.
A spokesman for Milford, Conn., Subway told
The Associated Press
that the length of chain's sandwiches can vary when its bread, which is baked at each Subway location, is made without following the chain's guidelines. What they didn't say is just how widely those lengths can vary, which is exactly what the Arizona Department of Weights and Measures and Phoenix's
KNXV-TV
determined in 2007 when they measured 3-foot subs and found them as much as four inches short. The boxes meant to store those "3-foot" subs, meanwhile, measured less than 2 feet and 11 inches.
Does Subway's shortfall matter? Of course it does. Read the comments field beneath any story related to a restaurant chain and its pricing. Restaurant chains, especially those of the fast-food variety, exist largely based on their value. When consumers feel a chain isn't offering enough quality or quantity for the price paid, they're not afraid to let companies know it.
When Applebee's and Chili's offer 2-for-$20 meal deals while Olive Garden put its dishes out there at two for $25, Olive Garden parent company Darden (
DRI +0.18%
) took heat and
lost sales
. When McDonald's (
MCD +0.38%
) shifted away from its
Dollar Menu
to focus on higher-priced Angus burgers and other premium offerings, U.S. customers hit it with its first sales loss in nearly a decade back in October.
"People look for the gap between what companies say and what they give, and when they find the gap -- be it a mile or an inch -- they can now raise a flag and say, 'Hey look at this,' I caught you," Allen Adamson, managing director of branding firm Landor Associates in New York, told the AP.
Subway's sandwiches came up an inch short on Tuesday, but the chain may have put a few miles between itself and the value-driven post-recession public's trust. If it doesn't react correctly, even Manhattan real estate won't cost the chain that much per inch.
Source:
http://money.msn.com/now/post.aspx?post=86b6472a-d31b-4f46-ada4-f84f78a0129a
By KAYLEE OSOWSKI and NATALIE O'NEILL

Last Updated:

10:41 AM, January 17, 2013

Posted:

1:07 AM, January 17, 2013
They deserve a knuckle sandwich.
Stingy Subway sandwich honchos are shorting customers by serving 11-inch "Footlong" subs, hungry New Yorkers say.
The Post discovered that the city's lunchtime crowds are getting short-changed after a muckraking Australian revealed the company's famous "Five-dollar Footlongs" were smaller than advertised.
Four out of seven Footlongs — purchased at Subway locations in Manhattan, Brooklyn and Queens — measured only 11 or 11.5 inches, according to the test.
And that's not the only corner Subway is cutting — the shops have sliced their cold-cut sizes by 25 percent in the past few months, a Manhattan franchise owner told The Post.
"The distributor has increased the food cost on the individual owners by 4 to 5 percent every year and provided the owners with less food," the owner explained.
Smaller heroes and less meat have fired up loyal regulars — who now have a different kind of beef.
"They're cheating us!" said 32-year-old Juan Rivera, who runs a hardware shop in Brooklyn Heights.
He eats Subway every other day with his father — but now he feels betrayed.
"That's foul and misleading. They state it's a foot long, so it should be a foot long!"
His regular Subway shop in Brooklyn Heights — on Montague and Henry streets — sold The Post a $6.75 "Italian BMT" that measured only 11 inches.
And those extra few bites can really add up.
If you buy a $7 "footlong" every other day for a year, an axed extra inch adds up to a loss of roughly $100.
Others at the Brooklyn Heights outpost were more concerned with waistlines than bottom lines.
"It's probably good that it's not a whole foot long — I don't think anybody needs a full foot-long sandwich," sniffed Margaret Zakhary, 30.
A meatball sub and an "oven-roasted" chicken sub from two shops on the Lower East Side measured in at 11.5 inches. So did a "Cold Cut Combo" from Long Island City.
The lunch drama came after Australian Matt Corby posted a photo of a turkey sub next to measuring tape on the company's Facebook Page on Tuesday.
Corby's photo — showing the sandwich at 11 inches — went viral, garnering more than 118,000 "likes" in just 24 hours.
Some defended the "shrinkage," saying toasted subs come out shorter — but The Post's analysis didn't bear that out.
Subway Spokesman Les Winogad said the photo "doesn't meet our standards."
"We always strive for our customers to have the most positive experience possible," he added.
Source:
http://www.nypost.com/p/news/local/this_hero_is_coming_up_short_RzxQNoGFTSdY0AeooGxBiP
So you see my blogger world readers is inpossablie to have a $5 footlong sub that you can mesure to a 12 inch sub? If you do then make a complanit in comments below ok? thats all I can say.